On a wet, cold and blustery Yorkshire day it was the visitors who came away with all three points in a massive result for Newcastle United. The game began at a very cautious and slow pace with neither side looking to commit too many numbers forward in fear of being left exposed at the back. In a first half of very few chances it seemed the home side were more likely to find a scrappy goal with the numbers of corners they were able to win, some very cheap! But Rafa Benitez's side showed a very strong defensive display and neutralised any cross into their box. Both sides shaped up very similar with 5-3-1-1 formations, Ayoze Perez and Alex Pritchard sitting behind the strikers for each side.
The second half began pretty much the same as the first, Huddersfield seen a lot more of the ball than our lads, but going nowhere fast with it. This was there downfall as 10 minutes after the restart, a ball down the right side was won back and swept into the feet of Javier Manquillo who showed great composure as he slipped it into the path of the onrushing Salomon Rondon who coolly slotted it into the bottom corner past the helpless Jonas Lossl. Aside from the couple of corners won by Huddersfield and a couple of heart in the mouth moments when Martin Dubravka pulled off a couple of world class saves which turned out to be offside anyways, but the confidence our lads must get knowing they have a truly outstanding goalkeeper between our sticks must be a huge boost. Yet again though for the lads we were on the wrong side of an HORRENDOUS decision by the assistant referee who judged Ayoze to be offside when he was clearly level if not a yard onside with the full back on the opposite side. This luckily didn't cost us as we hung on superbly well especially with this injustice but the sooner we get some VAR in the Premier League the better as it is actually beyond a joke that it seems to always happen to Newcastle. But Ayoze took it so so well and dinked the keeper only to see it ruled out, which his face in bemusement summed up the feeling of every Geordie watching. With the possession being 73.6% for the home side it was a case of taking the main chance we got, although Matt Ritchie did get a shot off after a carbon copy of our goal happened again down the right hand side and Rondon fed Ritchie who's shot was well saved by the Huddersfield Goalkeeper.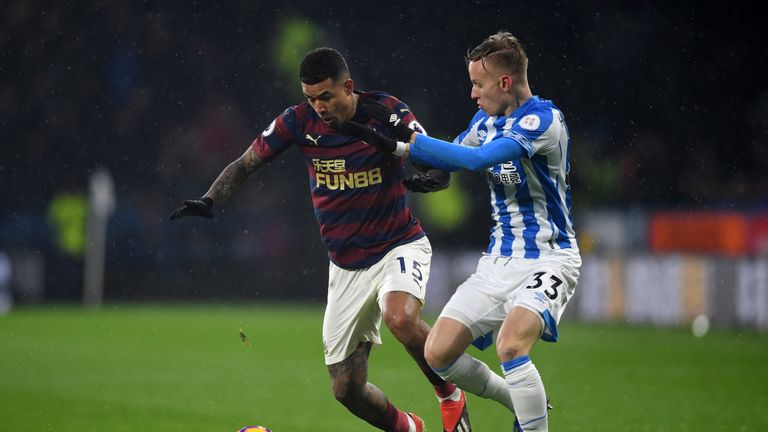 Match Ratings:
Martin Dubravka – 8 – The shot stopper continued his fantastic form and looked calm and assured throughout
Fabian Schar – 8 – Calm in possession, made some good interceptions and headers at key moments. Argued with officials and snarled at the opposition in a very good combative performance.
Jamaal Lascelles – 7 – Aside from a few shaky moments in possession which comes as a given unfortunetly as times with big Jamaal he was very solid and headed and cleared many balls into the area.
Ciaran Clark – 6 – No nonsense and combative as you would expect from the Ireland international. Never put a foot wrong in the whole match.
Javier Manquilo – 8* – Battled well, showed some decent touches. We all know his limited ability but we can't doubt the lad tries. Showed composure and a good pass through to Rondon for the goal, Man of the match contender for me.
Kennedy – 4.5 – Another poor performance for our Brazilian wonderkid. He did keep going and tried a few things but they just did NOT come off. Wore 2 different coloured boots…. Not sure about this.
Ki-Si – 6 – Did all the basics well, got a few decent tackles in but didn't really find any of our attacking players with the passes he usually does.
Mo Diame – 6 – Got all round the field like he usually does. Made some good blocks and tackles and intercepted some decent balls. Didn't offer too much going forward for once but given the game being what it was he did what he could well.
Christian Atsu – 7 – Playing in a roaming central role in which he is not familiar, he played very very well for me. Bombed into the opposition half and always looked a threat on the counter.
Ayoze Perez* – 8 – Young Ayo was a constant pain in the side of Huddersfield. He nipped in and nicked lots of balls, he turned well a few times and caused panic when in possesion for the opposition. Had a goal wrongly chalked off by the bong eyed assistant, which he elegantly slotted past the goalie. Would give man of the match to him or Manquillo I can't split them.
Salomon Rondon – 8 – Tough, strong and always a threat for us as usual, Big Sol was another good performer for us. Good touches shown and took his goal with aplomb. Keep it up big man!
SUMMARY:
To sum us up today it was a very effective and professional away display. As we have come to expect from the lads. We defended like greek gods and took our chance clinically. So the 3 points and his glasses safely tucked into the top pocket of Rafa Benitez and rightly so. Confidence will be high after this within the camp and with Fulham coming to St. James' Park next week we could see ourselves into a very good position come New Year and give the toon army a very merry Christmas!
Follow thefootballreporter on social media –
Twitter: thefootballrep3 / Facebook: thefootballreporterNUFC