So we took on Blackburn at home today in the FA Cup third round at St. James' Park but from the performance we saw you would question who the home side was and also who the team was in the higher division! Drab, lifeless in attack, short of ideas, lacking in quality and just a shocking performance from the toon army today. Lucky in the end to be getting a replay!
FIRST HALF:
So we kicked off the first half a bit tetchy and looked flat from the off. The 3rd minute seen newly fit and good to see Florian Lejeune charge forward into the blackburn half and hit a sighter from all of 35 yards which went hilariously wide but good to see the big man back from his awful injury in what must be history making quickness from such a serious injury. Then the worrying started, Blackburn sent in a few early crosses and when they got their first corner inside 5mins the young goalkeeper Freddie Woodman of whom a lot of promise is held with the coaches and Geordie fans alike given the fact he is a junior world cup winner, well you couldn't tell… He chose to try and punch their corner and got extremely lucky with it as it sails out for another corner. It took until the 8th minute for us to come anywhere near their goal, though we kept the ball decently well. But said event was a good ball in to the far post from Murphy and Joselu rose up with an acrobatic side scissors volley which was awkward for the keeper who managed to squirm it away which Kennedy couldn't make the most of and the chance went begging. The only constant in a dire first half was big Lejeune winning all his duels in the air and looking tidy on the floor also with some good tackles and passes. Then in the 29th minute Matt Ritchie fashioned a chance for himself on the edge of the area and hit a low powerful drive threw legs which the keeper decently saved but only into the path of the onrushing Joselu who was in a race with their centre half… which he lost and they tussled the ball behind, chance gone. Apart from those couple of chances it was a shocking first half showing and though I am a massive fan of playing home grown talent and young English players is a breath of fresh air… The young lads we put out (Longstaff, Sterry and Woodman.) Looked like they had won a chance to play for Newcastle from a coupon or a competition. Longstaff and Sterry utterly panicked when in possesion and Woodman defied the number one rule all keepers are taught (I know I am one.) CATCH THE BALL! He punched and parried EVERYTHING!!!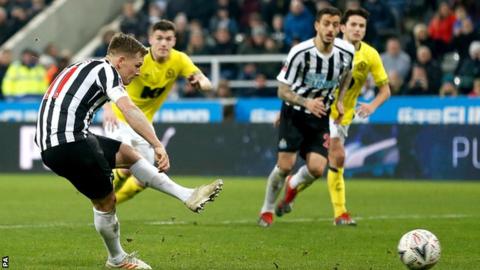 SECOND HALF:
It was Blackburn who shot out of the traps in the second half, pinning us back and creating the more likely scoring opportunities. It went back and forth with some sloppy play by both sides. But disaster struck in the 55th minute when a well rehearsed free kick routine caught us cold, our defenders expecting a driven drive from deep from Charlie Mulgrew the match winner for the rovers when they did the double over us in the Championship who shocked everyone by going cross field to Elliot Bennet who from a better angle swerved a good ball to the back post where Blackburn's top scorer Bradley Dack was seemingly unchallenged and shot his header past the flapping Newcastle goalkeeper, 1-0 to the visitors and the home fans silenced. A quick revolt and an instant reply from the home side with numerous chances created ASAP right?…. WRONG it was the away side who continued causing us problems. This continued into the 65th minute when the ball was centered once more from a Blackburn player which was flapped by young Woodman and luckily Schar was wise to this and was there to clear off the line! In the 67th minute we finally seemed on way to a breakthrough when a corner ball flew to the back stick where the newly subbed on Jonjo Shelvey was leaping like a salmon and slammed his header goal-wards where David Raya managed to make a good save which bobbled out into the path of Florian Lejeune who volleyed a shot into the arm of Danny Graham calling for the one and only need of the in use new VAR system to check the claims of handball which to me seemed a clear handball and a penalty….2 referee's and a little tele and still they didn't think it was. We looked a bit more dangerous towards the 80th minute mark but all our efforts from Ritchie and Joselu were blocked well. But then one of the changes made was Ayoze on for the hopeless on the day (And always in my opinion) Jacob Murphy, the Spaniard wriggled and turned into the box and was hacked down by 2 defenders for a cast iron penalty, this one GIVEN! Up stepped Matt Ritchie who donned the captains armband as he calmly stepped up and slotted the ball nicely into the bottom corner, 1-1.
STATS:
Possesion: 54% – 46%
Shots: 19 – 7
Shots on Target: 9 – 3
Corners: 7 – 8
Fouls: 11 – 8
MATCH RATINGS:
Freddie Woodman – 3 – A shocking display for me today from the young lad, who seemed to have a case of the Jak Alnwick's today as he flapped, punched and panicked whenever a ball approached (Must do better)
Jamie Sterry – 4 – One of the few young lads who seemed to be a competition winner, Sterry did nothing good of note, fouled a couple of times and just seemed baffled in possession and went backwards everytime. Poor.
Fabien Schar – 5 – Wasn't the worst nor the best performer in a black and white shirt but didn't impress again. He did make a couple of nice passes but him n Lejeune were the best players for us probably.
Florian Lejeune – 6 – Good to see the big man back and he looked solid and played decent. Let's welcome him back slowly though it was a massive injury, but good to see him complete 90mins.
Javier Manquillo – 5 – Rafa's kid did OK too. Did panic in possession as well a few times but made some decent blocks and runs. Meh.
Sean Longstaff – 3 – Again young lad thrown in, given a chance to impress against lesser opposition and he really didn't shine. Every pass was backwards or straight into an opposition player. Poor.
Jacob Murphy – 3 – I am really starting to run out of patience with this young man, yes he supports the toon, that's fantastic, but how many times can we see him burst with a bit pace then fail to beat the first man EVERY time!? If he can't show what he has got to warrant a £12million price tag v. Blackburn then who will he show it against? I say get rid while we can while he is young enough to kid someone into thinking he has potential, we sure bought it! Obertan the 2nd.
Isaac Hayden – 4 – He got about the pitch and got stuck in but seemed more occupied with fouling them and getting wound up. Poor today Isaac lad.
Matt Ritchie – 5 – Grafted as per, got himself wound up when things were going against us and as always wore his heart on his sleeve but he didn't deliver anything good into the box really and struggled to beat a man. Took his pen well but, its from 12 yards, not that hard.
Kennedy – 4 – Another shocking game from our Brazilian wonderkid. There is something a miss with this kid. Is it something deep or is it just blondes have more fun and he needs to fetch that bleach to dye it back? I worry for the lad as this is his last chance to impress the powers that be at Chelsea that he can be a good premier league player one day. Poor.
Joselu – 4 – a full 90mins for Joselu today. He got into some decent positions and did attempt a bicycle kick but he was wasteful and poor yet again, another I wouldn't mind being shown the door. How on earth he was once sharing a field and SCORING alongside Cristiano Ronaldo and Mesut Ozil and co. makes me question the meaning of life itself. Shocking.
SUBS:
Jonjo Shelvey – 6 – He looked creative and provided a couple of worldie passes which he is capable of we all know that. Why he didn't start AGAIN though baffles me and beggers belief.
Christian Atsu – 4 – Came on and affected the game about the same amount as I did watching, as that's all he seemed to do.
Ayoze Perez – 6 – Came on and looked lively if not a bit like bambi on ice at times, won the penalty with some good quick feet but the home fans are really just about done with the technically sound but wasteful attacker it seems and I cringe when his name is called out because it is often to a chorus of boo's be it him coming on or off. Sad really he only cost £1.5mil from Tenerife!? He has more then paid that back and then some and I am confident he can be a good player for us.
VERDICT:
Well the verdict is pretty damning as a Newcastle fan to be honest. We were very poor. And we now have to add a replay at Ewood Park to the already hectic and important league calender, with some key games on the horizon such as Cardiff at home. But with the likes of Chelsea at the bridge approaching, fasten your seatbelts, grit your teeth and hope and pray my fellow Geordies. It's going to be a rough ride from now until the end of the season, especially if big FAT Mike hasn't kept his word and sold us by then.