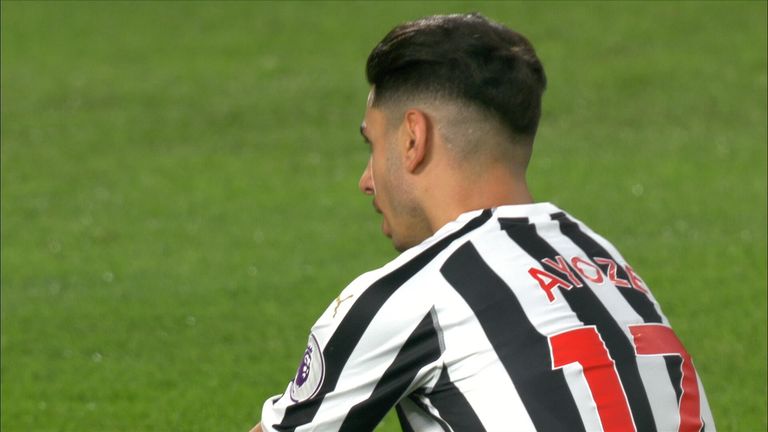 So another poor showing for the toon army as Chelsea, who weren't superb themselves put us into the bottom three where sadly we look mighty comfortable at the moment. Given the line-up we can field through injuries and such like, we look every bit a beaten and have the squad destined for relegation for the 3rd time under the Mike Ashley regime. How long do we give Rafa Benitez before he says to hell with this and walks away? WORRYING BEGIN!
FIRST HALF:
So that was the line-up given the injuries and the fact Kennedy can't face his parent club. That central midfield pairing in my opinion would not look out of place playing Vs. Sunderland in league one. Absolutely uninspiring against N'golo Kante, Jorginho and Mateo Kovacic in the oppositions midfield. The match started as you would expect with Chelsea knocking the ball around, Newcastle misplacing a lot of their kicks. Then our fears were realised in the 9th minute as a hopeful ball over the top of our defence seemed to absolutely baffle Ciaran Clark and Matt Ritchie who were out of position and simply watched Pedro slip in behind them onto the ball and coolly dink it over the helpless Martin Dubravka. 1-0. Expected of course but it is always upsetting when it isn't through the quality of the opponents but a shot in our own foot once again, typical. It quietened down a little until the 27th Minute when the ball was cleared by Chelsea which fell beautifully into the path of Florian Lejuene who couldn't resist to having a pop from distance which he met well but it was straight down the barrel of the thankful Chelsea shot stopper Kepa. It went back and forth a bit more with us coming into it a little more but Pedro again tested Dubravka in the 33rd but it was a simple save. Then came a guilt edged chance for Ayoze, the ball was expertly flicked onto the onrushing Perez from Rondon who won the majority of his duels today but the chance went begging when instead of clipping the keeper as Pedro had done for them prior Ayoze sliced his strike horribly wide and harmless! BIG CHANCE! But then the next chance would be ours as well, a cheap corner conceded by the home side seen Matt Ritchie pick out big Ciaran Clark who was looking to make up for his earlier discretion that led to their goal…GOAL! Beautiful header powered into the corner of the Chelsea net!!! 1-1! We finished the second half well also with Ritchie having a volley sail wide and it was the home side looking forward to the break, all seemed well.
SECOND HALF:
Well we soon forgot all about the good end to the first half, let's put it that way! in the 47th Minute the worrying started as a good flowing Chelsea move seen the ball drop to Kante who picked out Pedro in acres and he got a decent strike off but Martin Dubravka who is easily our best player but quite some margin made a brilliant save down low to his left. Chelsea took control of the game with little to no replies from the toon with Chelsea looking destined to score, which they did… Chelsea's key player Eden Hazard put sheer panic into the faces of all in black and white as he strolled into his gears and drove at our defence with his quick feet and slid the ball into the feet of Willian with Yedlin shepherding him to the byline which Willian chose to just ignore and cut in on his favoured right foot and get off a beautiful strike into the far corner giving Dubravka no chance! 2-1, sheer quality from Willian. We did allow far too much time for him to do so but fair play with the finish. Chelsea simply strolled around the park after this and the worrying increased further as a nasty collision into the advertising hoardings by big Jamaal seen him cut open his knee and looked to be struggling, thankfully he stayed on. Ayoze then danced into the area and protested for a penalty which it definitely wasn't. Possibly our top performer on the night (Not saying much) was the young central midfielder Sean Longstaff who didn't seem to put a foot wrong or a pass astray. Big Rondon also had a decent opportunity with the ball whipped in by Manquillo who came on as sub but couldn't hit the target with a man on his coat tails. But we did manage to win a corner in the 94th minute with seconds to spare… what did we do? Cross it for the big lads to contest for a possible equalizer?.. NO No we chose to play it short to Atsu with the Ghanaian simply panicking and going backward before lacing a very tame cross out of play… POOR!
MATCH STATS:
MATCH RATINGS:
Martin Dubravka – 7 – Made some good saves, always looked solid and just always is our best performer.
DeAndre Yedlin – 5 – Nothing at all was offered by Yedlin today and he just didn't do enough to close down Willian for his goal. Poor.
Jamaal Lascelles – 6 – Nothing special but nothing horrifically poor by the skipper today. Didn't make his usual stride out then panic and pass straight to them for a dangerous few moments.
Florian Lejeune – 6 – Again nothing special and great to see him back, made a few decent blocks and some decent tackles/headers.
Ciaran Clark – 5 – Low rating for a goal scorer but it was through him why we were behind to begin with, switching off. Which he did a few more times in the game.
Matt Ritchie – 5 – Asked to play left wing back once again and kept his graft up in doing so but it is painfully obvious that he is not a natural in the position. Shame. Good corner for the equaliser.
Christian Atsu – 5 – The former Chelsea winger was again asked to fill in at the centre of the park with Hayden and Longstaff, he offered very little going either way. Chelsea still left questioning how n why they spent the money to bring him to England.
Isaac Hayden – 5 – Got box to box all game but offered very little doing it. Clearly out of his depth in a premier league side for me and clearly doesn't want to be here, bin him.
Sean Longstaff – 7 – Our best outfield player for me. Kept possesion well and sprayed the ball about well. Top showing from the young Geordie lad who to be honest, looked like he had won the chance to play for us in a competition as I have stated, but if he can keep it up then I would rather he played than Hayden.
Ayoze Perez – 5 – Poor again from young Ayo. Stated his intention to leave recently and given the level he has performed at most the season I am sure not a lot of people would mind too much seeing the back of him. He panics when through and just mopes around all match. Poor.
Salomon Rondon – 6 – NO service from whistle to whistle for big sol today but he still put a decent shift in and was unlucky with his header towards the end.
SUMMARY:
Well another worrying display from the lads, especially that second half. The fact it drops us into the bottom 3 is also a worrying sign of things to come and with Cardiff and Blackburn coming up this is a massive month for us. If (And when) Mike Ashley doesn't give the club a single penny to put toward the squad in this window then it surely spells a fight to the death for our premier league lives, hold tight Geordie's and keep faith that one day lads and lasses we WILL have our club back! HWTL!
CHECK OUT OUR SOCIAL MEDIA:
Twitter: @thefootballrep3
Facebook: @TFRNUFC