Well that couldn't of been much better now could it!? You can't ask for much more than seeing the lads smash 3 excellent goals and a clean sheet to calm the nerves and make the post match Newcy Broon's taste that little bit sweeter! THAT was how you play football at home and THAT was all Newcastle fans demand! Front foot football, the players evidently grafting there socks off and we responded with a sincilating atmosphere and the noise that seemed all but lost this season with the doom n gloom of the club sale lingering in the air, but as is right we got right behind the lads in the best atmosphere I have heard all season! But we still mentioned the cause and the demand of GET OUT OF OUR CLUUUUB YOU FAT COCKNEY B******D loudly resonated around the ground and into the face of Jabba the hut who was in attendance! Hopefully he listens. But enough of all that, we won, we played excellentally and the lads did us proud to leapfrog today's foe's.
FIRST HALF:
The first 5 minutes began a little bit nervy and trepedacious with neither side wanting an early slip up costing them a sloppy goal. Was this way until the 13th minute when Ayoze saw his glancing header was nicely turned over the bar by Nathan Etheridge in the Cardiff goal. The game dwindled a little more and the passing went astray a little and a few slips and slides. But then… on the 24th minute, Fabien Schar picked up the ball DEEP in our half on the right hand side and drove forward beating men left right and centre until he strolled, cavalier like into the box and where most players would maybe lose their heads and try and boom the ball goalwards, Schar decided to ice coolly slide it into the far corner beyond the onlooking goalkeeper for a gorgeous goal! 1-0! Absolute class shown from the Swiss as he did his best Philippe Albert impression! We held to half time with little to no comeback put up by Cardiff as we sailed into a 1-0 half time scoreline.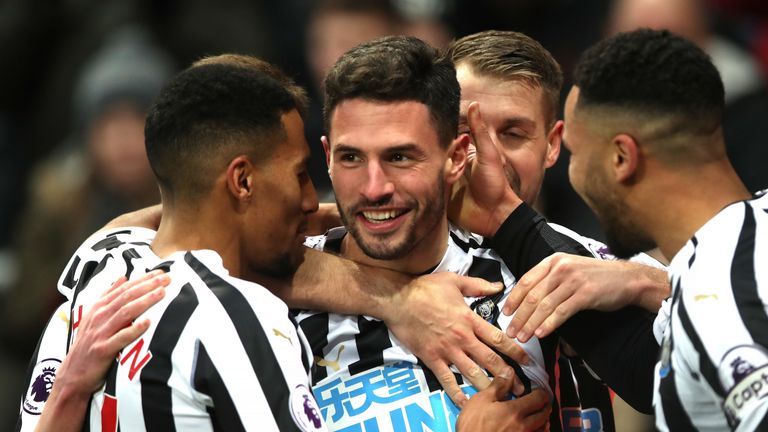 SECOND HALF:
Second half we began straight away back on the front foot, knocking the ball about with grace and confidence and Rondon held it up better than he has all season and that is saying a lot! He was an absolute Titan today! Cardiff offered very little coming back our way, big long diagonal punts into our box which we coped with absolutely no danger as we boasted 3 good ball playing centre halves who often enough just chested the ball down and brought it out of the defence, it was quite something to see. One solitary shot on our goal by the visitors and it was a sighter from range by Ralls which Martin Dubravka saved with ease. They huffed and puffed and attempted to blow our walls down but failed every time with the same game-plan…Route one from the Tony Pulis school of football. But on the stroke of the hour we got a corner from some good work by Rondon yet again who was beginning to tire but grafted right to the end anyway! The corner sailed past the Cardiff defenders onto the head of Jamaal Lascelles who forced a header goal bound and it fell onto the knee of Fabien Schar who showed great instincts to thrust his knee to the ball and make it 2-0! Thus becoming the first Newcastle defender to score a brace since 1996 when Phillipe Albert achieved the feat! Fantastico! Then it seemed he wasn't happy to leave it at that! Another corner was swung in by the left wand of the man with the magic hat Matt Ritchie. The ball again beat all the Cardiff defence and onto the head of that man again, Schar! And all the Geordie faithful jumped to their feet as the ball smashed off his beautiful head but.. it sailed agonisingly wide, hat-trick not to be. The next chance fell to Rondon who got into the box after a great run and he tricked the defender with some quick feet then thundered his shot into the face of Joe Bennett who took it hard and then it seemed big Sol was about to unleash his next effort on goal and surely into the back of the net when… he stopped and kicked it out for a Cardiff throw in! Showing incredible sportsmanship even if I questioned his sanity seconds after he did it but hey, big clap, that was class! But it was big Sol who again escaped the Cardiff defence on the left hand side and cushioned the ball into the path of the onrushing Ayoze Perez who passed it into the empty net, 3-0.
Match Ratings:
Martin Dubravka – 7 – Was mainly on onlooker except for the odd time he had to come and collect one of the cannons they flooded into our box from 55 yards out. Calm and assured, just how we like it.
DeAndre Yedlin – 7 – Made some quality runs deep into their territory and got back to make some good interceptions.
Fabien Schar* – 9 – Man of the match and rightly so! His Ben Arfa esque. goal was just the cherry on top of the delicious Schar cake today! Keep it up big man! Was always cool and calm on the ball.
Jamaal Lascelles – 8 – Was another good performer especially given the fact he hobbled off v. Blackburn but he was assured, aerially dominant and strong on the day.
Florian Lejeune – 8 – Was an absolute DON at the back today. Chested and brought it down so many times, headered everything that came his way to keep possession and was just ice cool all game.
Matt Ritchie – 7 – Good quality corners into the box all game and was as ever a grafter, especially given he is now deployed as a left wing back which is brand new to him this season!
Ayoze Perez – 8 – Was a make shift right winger given a bit of license to roam was young Ayo. He was tricky, busy and always got back to do his bit at the back also. Keep it up son and keep silencing the booers! Shhhh
Isaac Hayden – 7 – Apparent wantaway Hayden was solid all game, good blocks and tackles.
Sean Longstaff – 8 – The young local lad again excelled and grabbed the chance given with both hands! He looks every bit a Premier League midfielder. Was a battling, tough and sturdy performance by the young geordie! Keep it going son!
Christian Atsu – 7 – Worked hard for the cause, buzzed around the defenders all game and was unlucky on a few occasions. Good game.
Salomon Rondon – 8.5 – The big man was an absolute tank for us today! Held off the sizeable Cardiff centre halves as if they were sheer boys! And let's remember Sol Bamba is about 7 foot tall and 8 foot wide! Fantastic assist for Ayo's goal!
OVERVIEW:
SO! Soak it up, drink it in and take a massive bite of that performance lads and lasses, it is DELICIOUS! Made me wonder why I took an extra pair of keg's to the game with me… we absolutely dominated in chances and crafted many goal scoring opportunities. Was a true joy to watch the lads play and to score 3 goals and keep a clean sheet heading into a tough tough tie with Manchester City, this win was bigger then we even first thought! Let's keep the momentum up and hey cause an upset!? If palace can? WE CAN! The fan's were also PHENOMENAL! As needed! To finish it made me proud to be a geordie seeing how loud and passionate we were, making the far sod sit up and take note that this is OUR CLUB! We will get it back!
Follow thefootballreporter on social media –
Twitter: thefootballrep3 / Facebook: thefootballreporterNUFC